A 1.2m LED bargraph display unit from Metrix Electronics UK's Migra/Migan Microsyst range is in use at a steel mill.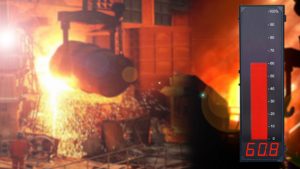 The unit provides distance readable indication of the level of molten steel in a vessel for at-a-glance monitoring by workers in this safety-critical environment.
An integral heater was included inside the IP65 aluminium case to cope with temperature swings in the mill building.
Metrix's 1.2m tall bargraph display improves steel-making safety.
The customer's brief:
"…a large 500-1000mm tall bar graph with numeric display
for use in a steel mill on the cast floor. It will be exposed to
very dirty environment with seasonal temperature swings
from -7 to +35ºC. "
The customer's verdict:
"Thank you very much. I will tell you that we are trying to
promote your bargraph as an option for our measurement
system. I hope we can sell a lot of them."