Waveform Generators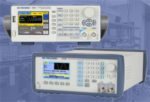 Included on this page are Analogue Function Generators, Arbitrary Waveform Generators and Pulse Generators.
Here at Metrix we have a range of high quality devices from BK Precision, OR-X and Sefram.
If you need to generate electrical waveforms an essential piece of electronic test equipment for your bench is the Analogue Waveform Generator or the more advanced Arbitrary Waveform Generator (AWG). The waveforms produced can be either repetitive or single-shot and injected into a device under test, confirming the proper operation of the device or pinpointing a fault.
For more technical information regarding waveform generators please refer to our post or call us to discuss your requirements.
Metrix Electronics has been supplying an extensive selection of electrical and electronics instruments for laboratory and industrial applications since 1999, and our technical team, based in Hampshire UK, is always ready to help with application advice.
Showing 1–18 of 49 results