Overview
The UPWT Universal Industrial Text Outdoor Displays series is a flexible LED information system with up to IP66 and remote communications from RGB Technology, Poland.
They are used to display key process information in factories, offices and industrial locations improving control, efficiency and safety.
The UPWT series are fixed-format (ie: one size) displays for wall-mounting and offers industrial performance at an affordable price.
All available with red, blue, green, amber or yellow LEDs and an IP54 Ingress Protection Rating.
For fully customisable displays in up to 300m character height see our outdoor migra displays 

The UPWT series can be reprogrammed remotely making them multipurpose and reusable – with a choice of communications protocols including Ethernet, RS232 and RS485.
Character Sets
The displayed text can contain digits and letters/characters from the following alphabets:
EN, PL, RU, DE, CZ, SK, HU, UA, LT, LV, NO, SE, FR, NL
the set of special characters (for example % @ ° $ € < > + – = etc.)
Interfaces
Content, depending on the version of the device, can be transmitted by the following interfaces:
Ethernet (two-way communication)
RS485 (two-way communication)
RS422
RS232 (with optical isolation)
CL 20mA current loop (with optical isolation)
Protocols
Displays communicate with the host system using one of the two protocols:
MODBUS RTU (RS485 interface only)
Simple R004 protocol developed by RGB Technology (included in the price of the device at purchase)
Both interfaces with two-way communication requiring acknowledgment of the receipt of the data by the display.
Models of the UPWT Series
UPWT-1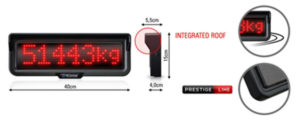 Height: 15cm
Width: 40cm
Number of Characters: 5-7
Resolution in Pixels: 40×8
UPWT-2

Height: 19cm
Width: 80cm
Number of Characters: 5-7
Resolution in Pixels: 40×8
UPWT-2-INOX

Height: 19cm
Width: 80cm
Number of Characters: 5-7
Resolution in Pixels: 40×8
UPWT-4-1

Height: 16cm
Width: 140cm
Number of Characters: 10-14
Resolution in Pixels: 80×8
UPWT-4-2

Height: 32cm
Width: 75cm
Number of Characters: 2 x 5-7
Resolution in Pixels: 2 x 40×8