Documentation and Downloads
Overview
The ZAH/ZBH Series of LED clocks from RGB Technology are designed to be easily mounted within a panel or sign, behind a transparent cover.
They are uncased and hence not suitable for wall mounting without an additional case/sign/totem provided by the customer.
These clocks offer an LED display with automatic brightness control, a choice of HH:MM or HH:MM:SS display and are all suitable for outdoor installation.  The 200mm digit height version offers outdoor readability from a distance of 80m (depending on environment).
ZAH/ZBH LED Clocks Technical Details for Online Ordering
Input voltage 100 – 240 VAC
Select from HH:MM display (4 digits) or HH:MM:SS display (6 digits)
IP66 rating perfect for outdoor use
For installation within a sign or panel behind transparent cover.
Select from Digit Height options 100mm, 200mm
IR remote control included
LAN communication module included
Intuitive user menu
Automatic brightness control
Displaying time in the 12/24-hour format
Time countdown – stopwatch function
Select from colours available red, yellow, amber, blue, green and white
Additional Options Available – please contact us for a quote
PoE+ power supply (Power Over Ethernet)
Displaying temperature (℃, °F) – requires water or air temperature probe
Buzzer (acoustic signalling device)
Loud buzzer (acoustic signalling device of increased volume)
Application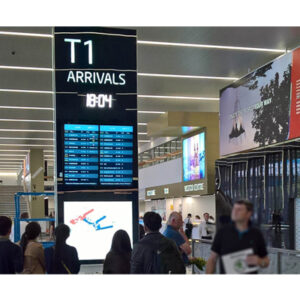 inside buildings: production halls, receptions, swimming pools, workplaces, halls, corridors, waiting rooms, schools
outside: over building entrances (as an element of the facade ), open sports facilities
stations, platforms, airports, passenger information, logistics centres
inside public transport vehicles
in pylons, welcome signs, and in street-mounted advertising and information signs
Time synchronisation Options
Time in the clocks can be set manually by the user or using the function of automatic time synchronisation – available in two options: GPS satellite and NTP (Network Time Protocol).
GPS satellite time synchronisation has following advantages,
provides precise time synchronisation from the GPS satellites based on atomic standards
does not require any configuration
does not require the Internet connection
operates in every location on the Earth
an LED signalling proper signal reception is embedded in the receiver
To take advantage of the satellite time synchronisation, you should equip the clock with the optional GPS Receiver. It is necessary to place the receiver in the location providing the "visibility" of the sky.
NTP (Network Time Protocol) – is a communication protocol supporting precise, stable and safe synchronisation of clocks with any time server through the computer network. A great advantage of this solution is the possibility of simultaneous synchronisation of many devices. The synchronisation may be executed:
from your own local time server – the Internet access is not required
from a public remote time server – the Internet access is required