Case Study – Acid test for Metrix bargraphs
Dinalog bargraph indicator-controllers from Metrix Electronics' GMW Dinalog range are providing pH indication on industrial effluent plants.  With analogue bargraph feature plus digital display plus alarm outputs, the indicator-controllers have improved speed of response and accuracy of monitoring of a key chemical process.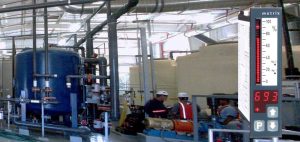 The Metrix technical team was approached by the customer to combine ease of viewing, accurate reading and control outputs in a single, compact device for industrial pH measurement.  To permit retro-fitting on existing plant, the device needed to accept input from installed pH transducers and be capable of installation in a damp but non-washdown position.  Larger Metrix bargraphs were considered but the compact Dinalog A1410 provided full functionality – simplifying siting.  User-programmable alarm setpoints allow easy configuration on different customer plants with MIN-MAX working to signal over and under target pH plus programmable hysterisis.