Digital Panel Meters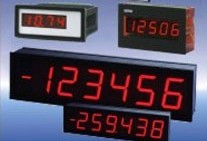 The Metrix Electronics range of digital panel meters includes hard-wired indicators and controllers as well as programmable devices capable of mathematical calculations.
Metrix Electronics has been supplying an extensive selection of electrical and electronics instruments for laboratory and industrial applications since 1999, and our technical team, based in Hampshire UK, is always ready to help with application advice.
Click here to go to our classic Digital Panel Meters department
No products were found matching your selection.