Printers - Panel Mount Thermal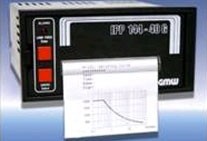 Metrix Electronics has a full range of DIN 144x72mm panel-mount thermal printers available to buy online today.
Please filter below to select printers for your application then click the product links for full technical information and buying details. Or call us on 01256 885940 if there's anything else you need to know.
Metrix Electronics has been supplying an extensive selection of electrical and electronics instruments for laboratory and industrial applications since 1999, and our technical team, based in Hampshire UK, is always ready to help with application advice.
The IPP 144-40G printers are robust and industry-proven in factory and laboratory use for batch information recording, fault logging and process monitoring where a hardcopy is required for Standards Compliance.
They are capable of text and graphics output and available from 24VDC to 230VAC in RS232,/RS485 versions as well as specialised Siemens and Marine system versions - ask us for details.
A paper reroll unit and IP65 cover are available as accessories.
Showing 1–18 of 19 results