Frequency Counters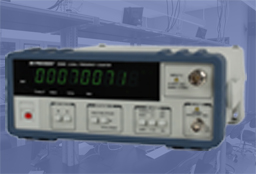 A full range of frequency counters from B&K Precision, up to 3.5GHz. Available to buy online today from UK based test and measurement experts Metrix Electronics.
Our counters are digital electronic devices which measure the frequency of an input signal.  In addition to frequency measurement, some counters can also measure the period of the input signal, the ratio of the frequency of two input signals or totalize a specific group of events.  Also their LED displays can provide up to nine digits of resolution using an external time base with a 10 s gate time.  Some models can be controlled remotely via RS232.
Please browse the frequency counters below and click through for full technical information and buying details. Or call us on 01256 885940 if there's anything else you need to know.
Metrix Electronics has been supplying an extensive selection of electrical and electronics instruments for laboratory and industrial applications since 1999.  Our technical team, based in Hampshire UK, is always ready to help with application advice.

or for panel-mount counters click