Spectrum Analysers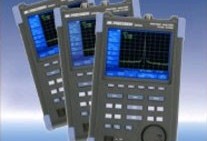 Metrix Electronics has a full range of Spectrum Analysers from B&K Precision available to buy online today.
The handheld spectrum analysers from BK precision have a frequency range from 50KHz - 3.3GHz or 8.5GHz.
The handheld options are a truly portable spectrum analyser. Lightweight with an impressive four hour battery life. A large TFT LCD easy-to-read screen makes the BK handheld spectrum analysers the ideal choice for applications where mobility is key.
The bench spectrum analysers, also from BK precision, have a frequency range from 9 kHz - 2.1GHz or 3.2GHz.
The BK Bench spectrum analyzers deliver performance and functionality in a lightweight, compact design, suitable for lab and field use. The large 10.1" wide-screen color display allows the user to visualize the waveform and make precision measurements such as third order intercept, occupied bandwidth, 2D and 3D spectrum monitor.
The complete BK range available from Metrix includes the BK2650A, 2652A, 2658A, 2682 and the 2683.
Please use the filters below to select meters for your application then click the product links for full technical information and buying details. Or call us on 01256 885940 if there's anything else you need to know.
Metrix Electronics has been supplying an extensive selection of electrical and electronics instruments for laboratory and industrial applications since 1999, and our technical team, based in Hampshire UK, is always ready to help with application advice.

or

click here

for TV field-strength meters