Documentation & Downloads
Overview
DAA 144-120B Intelligent Message Display with text memory.
This product is no-longer manufactured and we have no new stock.  And the factory has stopped its repair service for this model.
We do try to find used units and test and offer with a warranty – but as at 11 May 2022 we do not have any stock – come back again in case we do.
Got one to sell?  Contact us at sales@metrix-electronics.com if you have a working unit without damage and with photos of it powered-up.
Update: Jun 2021 SOLD – we have 1 used unit DAA 144-120B 24VDC awaiting test and sale with warranty and money-back guarantee.  Please email!
UPDATE October 2020 SOLD – we have 1 old, used DAA144-120B for sale found in our sample stock (without box, without connectors, with mounting bars, without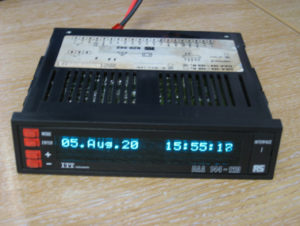 manual – download below). Serial number 202836212.  It powered-up, display bright, correct date retained, Mode menu cycles through OK.  Price £800 GBP plus VAT.  This unit is sold with a 3 month warranty (subject to return in the same physical condition supplied).  Please email for more information.
Updated Dec 2021 – currently all sold – Please note (UPDATED June 2021 – new unit sold but 2 used units available) we also have 1 brand-new DAA288-240B 24VDC unit in stock (subject to prior sale) available to buy online. Although physically larger than the DAA144-120B, the DAA288-240B has very similar functionality and may be a suitable alternative to the DAA144-120B.  See the Manual here.
DAA 144-120B Intelligent Message Display with text memory.
18…36VDC power
144mm x 36mm bezel size
Store up to 255 texts
Variable data insert
Multiple character sets
BCD, Binary or Serial text call
Built-in real-time clock
Alarm relay
(DAA 144-120A without text memory was also available)