Displays Large Graphic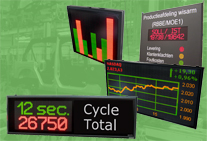 Metrix Electronics offers a wide range of large graphic displays for Indoor and Outdoor Applications with a range of input interfaces including Ethernet, serial RS232, Profibus, Profinet, WIFI and AD converter.
These displays typically have character heights from 40mm to 300mm - generated from LED dot-matrix elements or full TFT panel displays.
Click the links below for technical data and buying details or email us for more information.
Metrix Electronics has been supplying an extensive selection of electrical and electronics instruments for laboratory and industrial applications since 1999, and our technical team, based in Hampshire UK, is always ready to help with application advice.