Oscilloscopes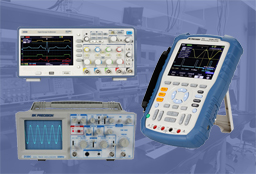 Metrix Electronics has a full range of digital and analogue oscilloscopes from BK Precision. With a bandwidth from 20-300MHz and available to buy online today.
Oscilloscopes are essential tools in an electronic world. Used in a wide variety of applications such as design, service, manufacturing, and education, B&K Precision's broad line of digital and analog oscilloscopes help engineers, technicians, and scientists solve their measurement challenges quickly and accurately. In addition to traditional use a BK Precision scope can be combined with the BK Precision WaveXpress™ waveform editing software. This enables users to easily modify waveforms downloaded from a compatible oscilloscope. Or create complex waveforms using powerful and intuitive editing tools.
Please use the advanced filters below to select oscilloscopes for your application then click the product links for full technical information and buying details. Or call us on 01256 885940 if there's anything else you need to know.
Metrix Electronics has been supplying an extensive selection of electrical and electronics instruments for laboratory and industrial applications since 1999. Our knowledgeable technical team, based in Hampshire UK, is always ready to help with application advice.
Showing 1–18 of 34 results