Clock Display - Multi Function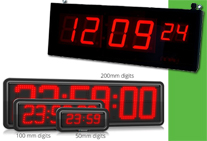 Metrix Electronics has a full range of LED multifunction clocks, available with remote control and GPS signal update options as well as temperature display.
Select from indoor or outdoor models with up to 400mm digit height for readability up to 200 metres away.  These professional quality LED clocks are used in laboratories, production and medical facilities as well as schools and colleges, reception areas and offices and airports, railway and bus stations.  They can be combined within a network to synchronise multiple clocks or programmed to operate bell systems.
Metrix Electronics has been supplying an extensive selection of electrical and electronics instruments for laboratory and industrial applications since 1999, and our technical team, based in Hampshire UK, is always ready to help with application advice.