Outdoor Displays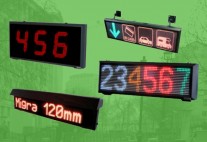 Metrix Electronics offers a wide range of large outdoor displays for Outdoor Applications. 
For a simple numeric outdoor display we have the MIGAN outdoor range from MicroSyst. With an IP65 rating, available with red or green LED's in large character sizes (up to 300mm). This makes the MIGAN outdoor range a sizeable display readable from a distance.
If you are looking for a simple off-the-shelf display then take a look at our range from RGB, UPWT series. Select from a wide range of colour LED's at time of ordering. Display your message from a fixed character set via a variety of interfaces.
For more complex requirements we can supply a bespoke graphic display. For a challenging damp environment take a look at the MIGRA range from microSyst.
Whatever your requirements for your outdoor display whether its for a difficult environment, complex graphics, an extra large size or double sided then get in touch with us.
Please click the links below for full technical information and buying details. Or email us at sales@metrix-electronics.com if there's anything else you need to know.
Metrix Electronics has been supplying an extensive selection of electrical and electronics instruments for laboratory and industrial applications since 1999, and our technical team, based in Hampshire UK, is always ready to help with application advice.